Closing out a school year can be a little overwhelming. Once the dust has settled here are some tips and tricks to help you clean up and be ready for a new year.
Ending the Year with Canvas
The following infographic with links will help you close out your Canvas courses from this year.  Information Systems will archive this year's classes during the summer. If you would like to work on your courses over the summer, the guide linked below has the information  For help or more information about a Canvas contact your Digital Learning Specialist.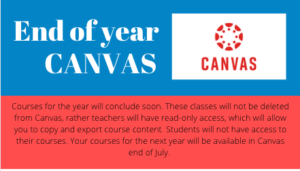 Spring Clean Up Tips from Emily Doll
Emily Doll at Riverside Elementary provided her teachers with the following infographic with tips for decluttering your virtual workspace.  Her tips are linked on the infographic linked below.